Wire Basket K415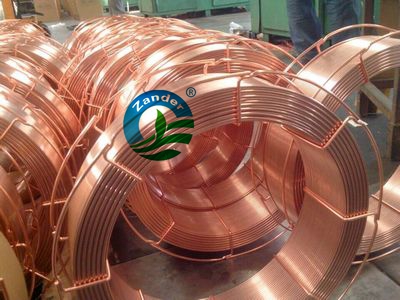 Wire Basket K415
Submerged Arc Welding Wires (H08A / AWS EL12)
Product Description
Confirm with:
GB/T 5293 F4A2-H08A
AWS A5.17 F60-EL8
BS EN 756-S 35 2 CS S1
ISO 14171-A-S35 2 CS S1
ISO 14171-B-S43A2 CS SU11
Product Discription:
KH-H08A is a submerged arc welding wire of coppersurfaced carbon structural steel, Be used
together with fused flux KJ301, KJ301 is silico-calcium neutral agglomerated flux, alkalinity is
approx 1.0, It appears a ball granule of gray color about 10~60 mesh in size. They are used
together, the arc is stable, slag is easy to remove and bead appearance is excellent. The
weld metal is possessed of good mechanical properties.
Model No.: H08A
Flux contanining: containing flux
Diameter: Φ3.2mm, Φ4.0 mm
Type: Rolling wire
Weight: 25kg, 50kg etc.
Export Markets: Gloal
Application:
Suitable for carbon-steel(such as Q235,Q195 etc.) and low alloy steel(09Mn2,16Mn,16MnCu etc.).
Chemical composition of wires (%):
| | | | | | | |
| --- | --- | --- | --- | --- | --- | --- |
| | C | Mn | Si | S | P | Cu |
| Welding wires | 0.070 | 0.4 | 0.018 | 0.011 | 0.014 | 0.10 |
| Deposited metals | 0.058 | 0.86 | 0.580 | 0.015 | 0.024 | 0.06 |

Typical mechanical properties of deposited metal :
Tensile Strength
Rm(MPa)

Yield Strength
ReL(MPa)

Elongation
(%)

AKV Impact value
(J)(-20°C)

Standard values

415~550

≥330

≥22

≥27

Sample values

470

365

30

60