WL15 Tungsten Electrode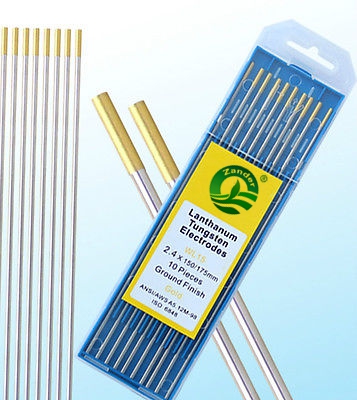 WL15 Lanthanum -Tungsten Electrode
Lanthanum tungsten electrodes WL10 WL15 WL20
1) We can supply electrodes of thoriated tungsten, ceriated tungsten,
lanthanated tungsten, zirconiated tungsten, pure tungsten, illinium tungsten.
2) Item: WP, WT20,WC20, WZr3, WZr8, WL10, WL15, WL20,WS2, WY20
3) Diameter: 0.5- 10.0mm(0.02''-0.394'')
4) Length: 50.00mm, 75.00mm, 150.00mm, 175.00mm
5) Quality of surface: polish annealed, or ground annealed
6) Applications: TIG welding and plasma welding, cutting, spray-coating and smelting
Why choose us zander brand welding wire and welding rod?
(1) Good quality with competitive price
(2) Free samples for test welding wire quality
(3) OEM packing accept
(4) Professional Severice
Our company policy is quality the first, with aim of establish
good and long time business with every customer.